Surprisingly instructive books
"Written from a rich equestrian experience!"
Reprogram your mind to gain control over your thoughts and emotions!
---
Reader-friendly and easy to understand, even for non-enthusiastic readers.
Practical horsemanship with emotional & analytical underpinnings.
Scientifically justified.
Enjoyable books, with short chapters.
Handy size 128*205, full of coloured photos, cartoons and diagrams. Paperback.
De author: André Geeroms
60 years of equestrian experience as a dressage, eventing and show jumping rider at the highest level.
Known as a skillful rider and proficient trainer, certified dressage judge, licensed examiner, animated presenter, trainer, breeder, ....
He was national champion in eventing and dressage and is a successful author of equestrian books.
His rational engineering mind combined with a proven emotional intelligence as a people manager, guarantee a thoughtful use of emotions in the training of horses.
He obtained the highest degree of Trainer A at the Flemish Trainers School and teaches at various equestrian academies.
He writes, so to speak, from the saddle, with his own interpretation and with a smile and a tear.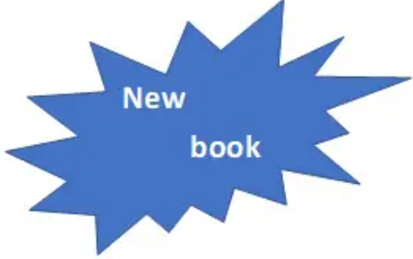 "Persuit of your Happy Athlete"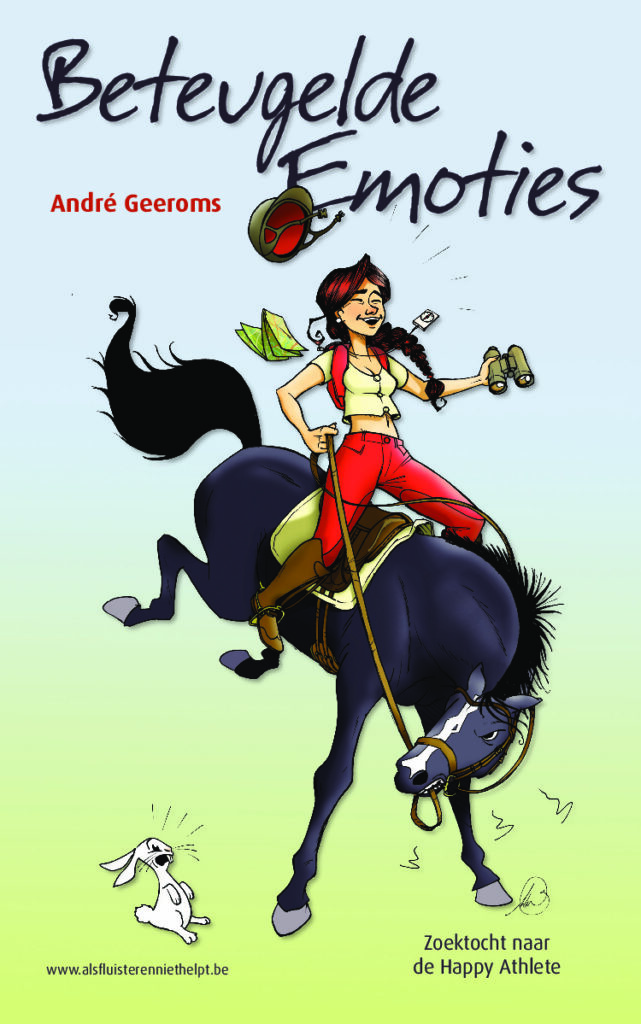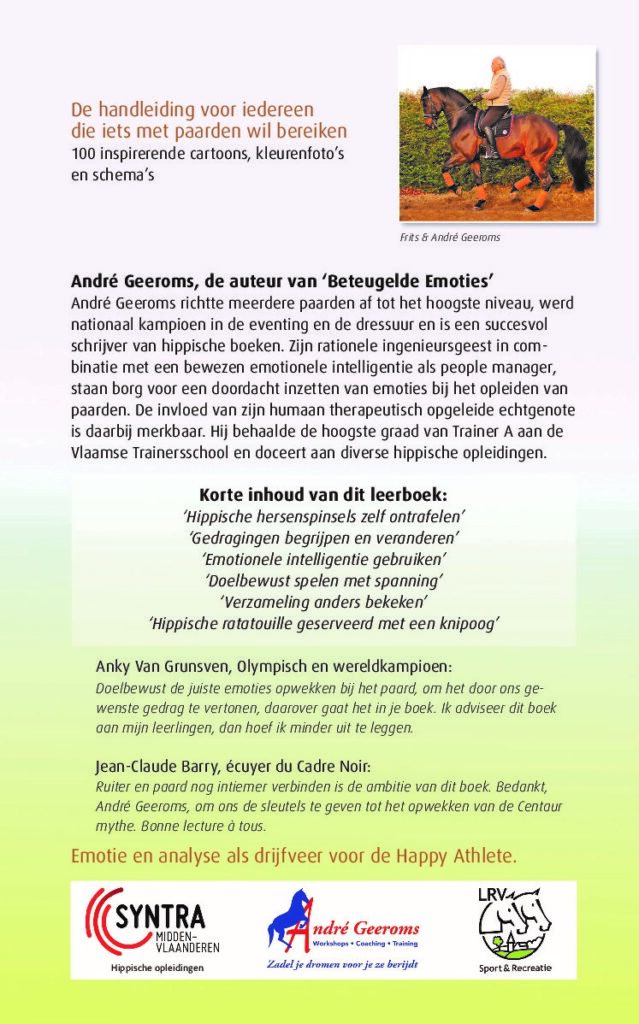 Contents:
Training horses is about inducing behavioural changes. The wonderful brain, which is programmed for laziness, needs to be stimulated to provide the necessary emotional, analytical and physical energy. The proven in-depth humane psychological research can be used with some interpretation in training and motivating horses, while respecting the Happy Athlete principle. This book gives you a much deeper view of yourself and your horse. It tells what separates you or makes you a compatible pair.
No vague talk, but a guide to your personal goals.
"Unravelling equine concoctions". Ability to create a belief in order to achieve a desired behaviour.
"Using Emotional Intelligence". Looking for the satisfaction of horse and rider by arousing the right emotions.
"Playing with tension". There is no such thing as riding without tension, without tension you are dead. How to build respect and trust. Playing with change and uncertainty.
"Collection viewed differently". Increase labour and power through appropriate gymnastics. You can measure the degree of collection yourself.
"Equestrian ratatouille served with a wink". Various equestrian topics are looked at differently.
Searching for equine fulfilment for yourself and your horse.
Emotion and Analysis as the driving force for the Happy Athlete
Anky van Grunsven, multiple Olympic and World champion: Purposefully arousing the right emotions in the horse, in order to exhibit the behaviour we want, that is what your book is about. I recommend this book to my pupils so that I don't have to explain as much.
Jean-Claude Barry, équyer du Cadre Noir for 17 years: Connecting rider and horse even more intimately is the ambition of this book. Thank you, André Geeroms, for giving us the keys to reviving the Centaur myth. Bonne lecture à tous.
€29,50Add to basket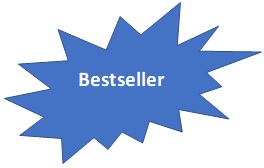 "If whispering doesn't help"
"Your book betrays a vast and multifaceted experience."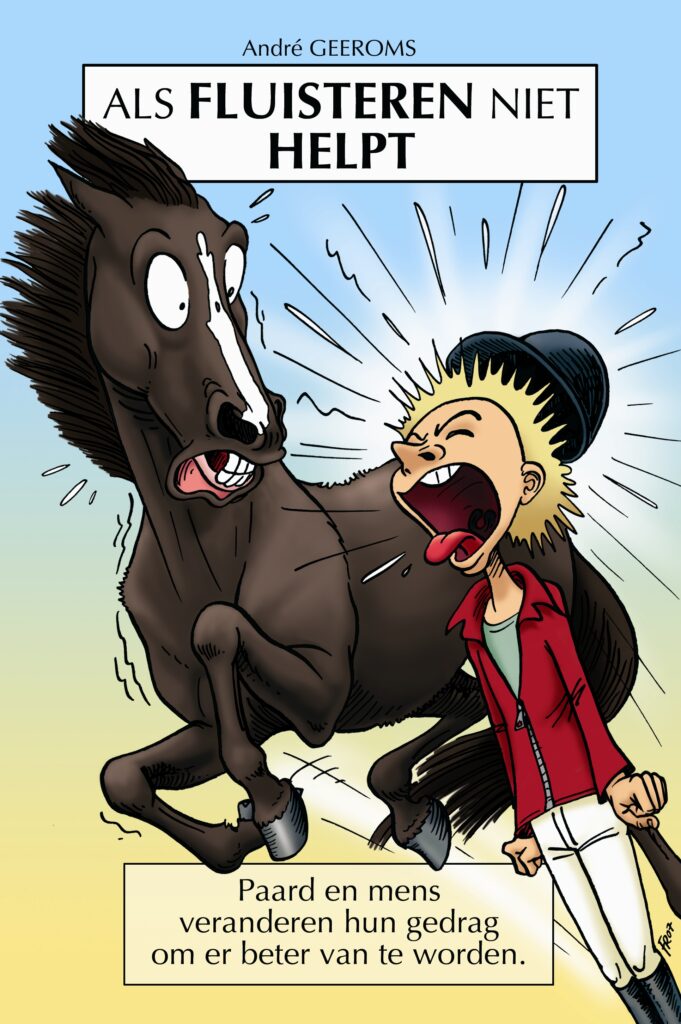 Training is about changing behaviour.
Handling and training a horse are based on behavioural changes.
The textbook for anyone who wants to change the behaviour of their horse and themselves.
Just to get better.
Every living creature changes its behaviour only to benefit from it',
that is the thread that runs through this pedagogical yet entertaining book.
Book for everyone.
Suitable for beginners and advanced riders, amateurs and professionals.
264 pages, 30 beautiful humorous drawings and 80 colour photographs, A5 size.
Contents.
To get a horse to behave the way you want it to,
to be successful, you need to be aware of your own and your horse's natural behaviour.
The psychological differences between horse and human are discussed in detail here.
It takes more than whispering and dealing with horses in a natural way.
Instinctive behaviour.
The rules surrounding this 'instinctive behaviour' are explained in depth in this book,
but it goes much further
Instinct · Intelligence · Form of society · Prey animal - Predator · Daily routine of the horse · Communication between animals · Behavioural expressions · Facial expressions · Imposing behaviour · Dominant behaviour · Aggressive behaviour · Submissive behaviour · Chivalrous behaviour · Habitual behaviour.
Learned behaviour.
'Learned behaviour' (training) also follows fixed rules.
Empowering behavioural training starts from the science,
that a behaviour is only changed for the better.
Coercive methods are therefore certainly not a necessity in order to spur a horse or human into action.
Pleasant and empowering vs. positive · Stimulus - response · Conditioned response · Learning processes · Conditioning · Passive conditioning · Cooperative conditioning · Unpleasant reinforcements · Pleasant reinforcements · Shaping · Motivational behavioural training · Self-analysing
Sport psychology and coaching
Because the mental capabilities of humans are much higher than those of the horse,
sport psychology & coaching are also dealt with in depth.
"If whispering doesn't help" gives a complete insight into how horse and human behaviour can be changed.
Used as a handbook in most equestrian training programmes.
Training results - Fear/Self-confidence - Powerful self-image - Keep it simple - Effective forms of communication · Feedback · The sandwich method · Simulation training · Jules Verne technique · Modelling · Reframing failures · Types of training · Ego- or task-oriented training · Group training or alone? · Why perform? / Characteristics of a project · Will or intention · Setting achievable goals · What do you need? What is holding you back? · Examine everything and keep the positives.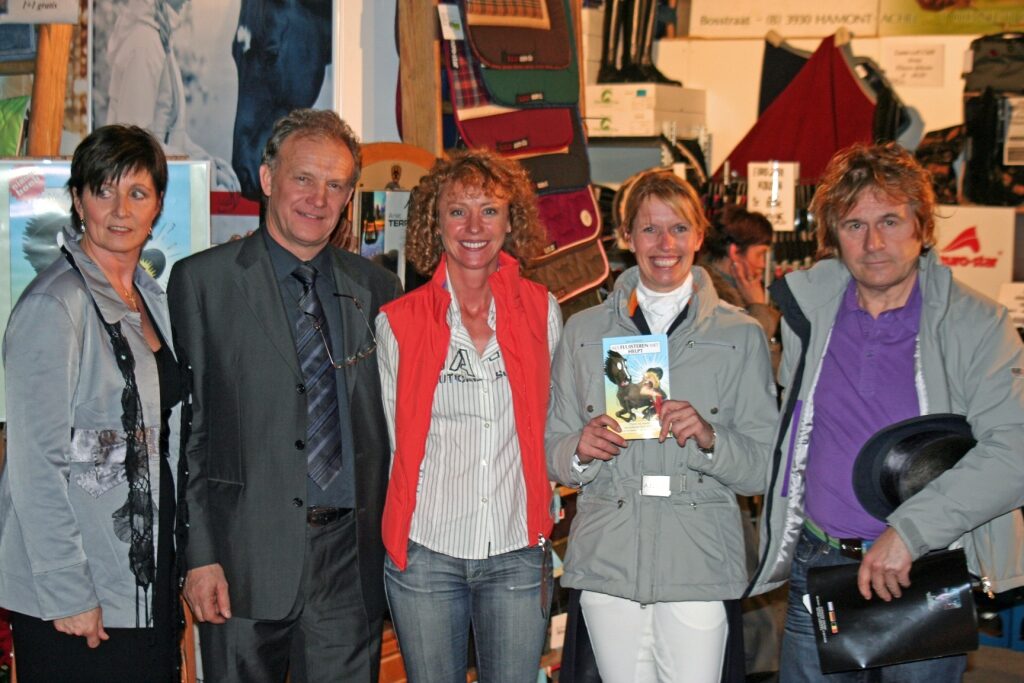 Foreword Anky van Grunsven.
World and multiple Olympic dressage champion:
"Send me 20 copies of your book as a gift students top riders, when they have read your book, I have to explain only half of it."
---
"If whispering doesn't help" is available.
in paperback:
€23,50Add to basket
Beestig africhten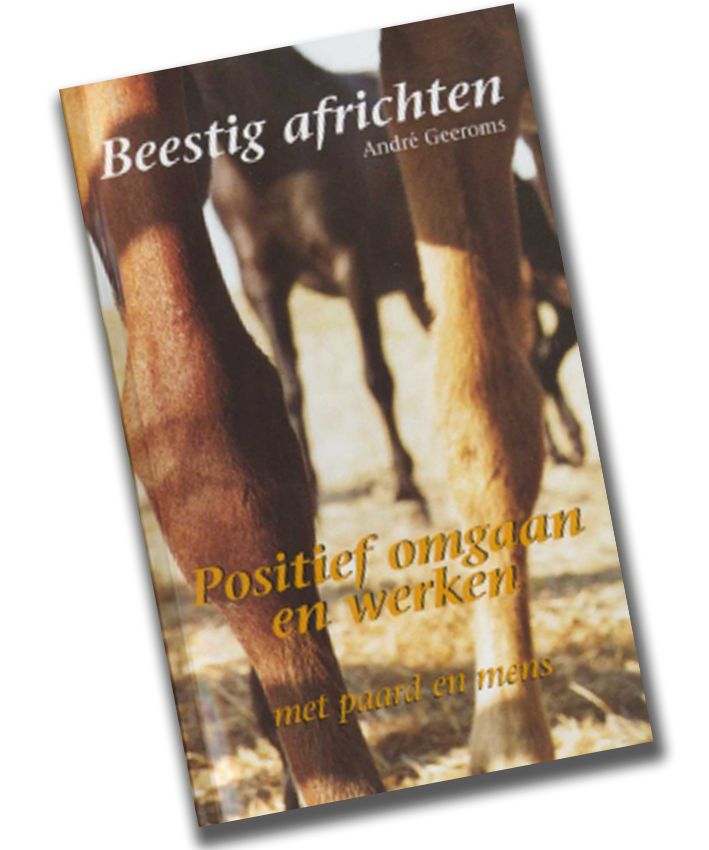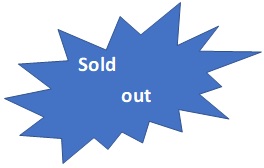 Contents:
Training is creating a change in behaviour. Awareness of the behavioural differences between horse and human is a necessity. Knowledge of instinctive and acquired behaviour is the basis.

Training is creating a change in behaviour. Awareness of the behavioural differences between horse and human is a necessity. Knowledge of instinctive and acquired behaviour is the basis.
A living being changes its behaviour only to improve its living conditions.
Punishment never teaches anything, it only unlearns. Mental and physical torture is not necessary to achieve performance. Sharp bits, stinging spurs and abusive words are to be avoided.
Motivated horses and people are the result of positive interaction.
A book for all disciplines of equestrian sports. "Beestig africhten" is currently sold out due to great success.
"This book should be compulsory in all equestrian training programmes".
- Ernst van Loon, Olympic rider and renowned equestrian writer.